Have you ever wondered about the difference between a sofa and couch or a cocktail table and coffee table? Throughout history, same furnishings have shared different names…. sometimes based on location, other times by historical events.

The one I get asked about most is the COCKTAIL TABLE VS COFFEE TABLE. While they can be used interchangeably, this article nicely explains the evolution of how they really came about. The cocktail table started somewhere at the end of prohibition, which then allowed for cocktails to be served in the home, whereas coffee tables started out more as a table in English tea gardens.
Cocktail tables tend to be slightly taller than a coffee table by a few inches and some claim the difference lies in the shape, but in these modern times, you really have the luxury of using whichever fits best with your seating and décor style. This article does an admirable job in discussing the END TABLE VS THE SIDE TABLE as well as several other styles of table to consider.

Another common distinction not always obvious is the SOFA VS COUCH. I have always operated from the premise of the sofa being used in a more formal setting such as a living room or a hotel lobby whereas the couch would be placed in a den or family room to satisfy a more informal condition.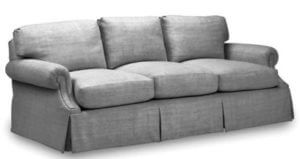 In this well written article, the historical references attached to the both words denote the origins of and upport each intended use, however, I don't entirely agree with their take on the sizing of the sofa. The chaise, divan,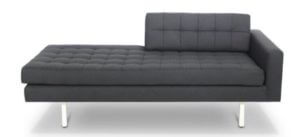 daybed, settee (Wikipedia brings you to couch for that definition) and LOVESEAT all have their historical predispositions but with the advent of lofts, studios & tiny houses the rules
of use are completely up for interpretation.
This article does justice to each in explanation as well as does this one. And then there is the Canadian take on the Chesterfield. Make sure to read all the way through to the comment stream… it gets a tad snarky and fun. 
The LOUNGE CHAIR VS SIDE CHAIR is yet another tomatoe-tomato scenario to be examined for its differences. As in the sofa vs couch and cocktail vs coffee table discussion, the root of the word is where the true power lies but again, in these modern times, all is interchangeable and there is no crime here to be
reported. There are many types of chairs and they are well documented in his informative ad fun read.
The most distinctive observation I  
will offer is a side chair tends to be not fully upholstered, lighter in its construction and   generally viewed as more of an accent piece.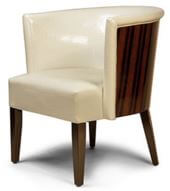 A lounge chair also sometimes called a club chair among other names, is usually considered as part of a seating arrangement, mostly fully upholstered and is often a bit larger in size while the occasional chair  would tend to be a bit smaller.Here is a another fabulous list of  even more chair types to enjoy.
Moving on …. there are the OTTOMAN, FOOTSTOOL AND HASSOCK. While this article 
claims what makes an ottoman an ottoman is that it has storage inside, I have to respectfully disagree and point out that while the ottoman in its origins might have only been that, it's just not so anymore. As I noted in an earlier post on ottomans, they have evolved and come in all sizes, shapes and functions these days.
Turning our attention to the difference between an ARMOIRE, CHIFFEROBE and WARDROBE we can appreciate all 3 provide hanging and storage for clothing in a single freestanding unit.  There are those that assign the wardrobe to the use of male clothing however the French origin of the armoire also naturally lends itself to the same since it was known as a chest for storing armor back in the medieval days. No matter which of the particular variations of names you prefer, they are all usable for whatever storage needs you require, not just the storage of clothing. No rules! The commonality is that none are a built-in unit.
Next, we come to the difference between an ÉTAGÈRE and a BOOKCASE. That distinction might well be the easiest to discern. Once again the French claim the origin but simply put, the étagère is an open bookcase making a larger piece the perfect room divider or a more elegant approach to a book case. I like this post.  A bookcase can be built-in or freestanding; ornately adorned or plain in its design; residential or commercial in its use. I would argue the function would absolutely dictate which one is more ideal to use.
Finally, let's address the difference between a DRAPERY and a CURTAIN. As noted in this page the differences lie in the hardware, function, lining and formality of the treatment.  This post does a good job of  further listing each set of criteria. No matter how casual or formal the application, the true purpose of any fabric window treatment is essentially to provide decor and privacy with some measure of light and environmental control.
So potatoe-potato …. tomatoe-tomato .… you decide.
There are so many more ONE VS ANOTHER scenarios I didn't mention here but let me just let  you in on a little designer secret …. nothing makes us happier than to take an item intended for one purpose and use it in another way to give the design a special and unique something.  Anyone can do it and truly anything goes. Be creative. Be bold. As long as the piece fits and is functional, there are no design police that will come and take you away.
Call 856.269.0707 or email [email protected] and let us find you that special item to use in your design project!
POTATOE/POTATO….TOMATOE /TOMATO