Podcast: Play in new window | Download
Subscribe: RSS
Custom Design. Say those words to a client and see the look of fear and alarm wash over their face. How much will that cost me, is what they are most likely thinking. The word custom can create anxiety in folks who have assigned an unfair meaning to the topic. It's true, for many people, custom is a misunderstood word and I would like to defend its honor right here and now.
Understandably, we designers have the exact opposite reaction to the notion of doing a custom design. It's not about the money, even though a custom design can cost more than an off the shelf anything … hear me out … stay with me on this. When a designer produces a custom approach to whatever they are designing for a client, it allows us to provide exactly what is needed or wanted in the project. And isn't that really the point? To get exactly what you say you want in your bathroom renovation or new kitchen or bedroom makeover? My job as the designer, is to interpret the information and provide a design based on what you, the client, said you wanted within the specified budget. Custom design of a particular item such as a bookcase or a window treatment is always the best way to achieve that goal. But, it's not the only way.
I don't mean to intentionally confuse you. Here I am touting the virtues of custom design and now it seems I'm backtracking from my position. Again … stay with me on this. How to achieve giving the client exactly what they want or need when the budget doesn't easily allow for custom work, is a feat often accomplished without accolades. An experienced designer is able to take an in-stock item or running line and tweak certain elements to give it that customized approach without breaking the budget. It's why we designers value our vendors as we do. The relationship between designer and manufacturers rep is priceless and often beloved. A good rep will help the designer make the requested changes seamlessly and in the least expensive way to benefit the client.
Here is an example of a color change I made in a guest room carpet for a hotel project. The carpet was well priced for the budget and the pattern worked beautifully within the proposed guest room design. The color palette that was available in the running line however, was not what we were looking for, so I recolored it to the palate we wanted to work in. In this case, there was no additional charge for making it a custom based on the amount of yardage being ordered.
I am not saying custom doesn't cost more. Sometimes it's as simple as a small up charge from the manufacturer to tweak the running line and sometimes it is more costly to produce a custom made table or cabinet or fabric. I am saying that if it is the right approach to the project, the designer will show why such is the case and can work to adjust costs somewhere else if need be to accommodate for any additional costs. I encourage my clients not to be afraid of the custom approach if it is the best solution for the project and to trust the designer's judgment. Custom design does not have to break the budget.
Making space function to meet the unique needs of its occupants through interior design is the mission statement I operate by. It's like the designer's version of the medical Hippocratic Oath. Custom design is but one tool used by designers to meet those unique needs. How many of you have bought a home or moved into an apt or office and you had to adjust to the space with the furniture from the place you had just moved from? Instead, why not create a space plan that functions for your specific needs by customizing the size of a sofa you like or building in a book case? You already do it with your window treatments. You only order shades to perfectly fit the new windows you now have. You can and should use that same approach with the rest of your space.
In this floor plan, I took a closet (ELEVATION B) and converted it into a much needed small kitchenette. I customized the space to accommodate for the specific needs of its occupants. I also designed a simple but custom file storage (ELEVATION A) for the office staff, not to be seen by the general public. Not an expensive endeavor … but still custom.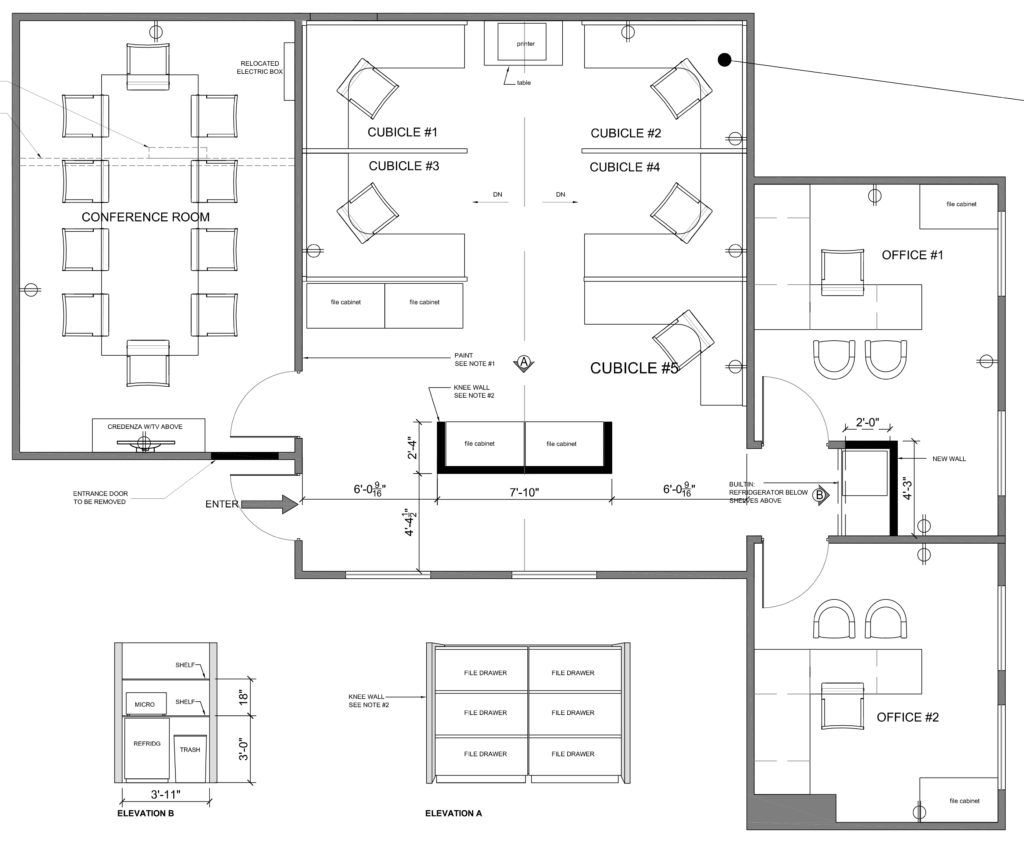 In the end, it's all custom design. Using stock cabinetry to fit into your kitchen remodel is actually customizing a design and working with a designer can help save you money in the project by utilizing running lines in a way that exactly works for your needs in your space. You know… like custom design.
For any of your custom design needs call to schedule a consultation at 856.269.0707 or email us at [email protected].
Like what you read? Sign up to receive our newsletter right into your email box!
CUSTOM DESIGN … get what you want!